Extra Paint Set
Title
All About Austin
Amazing Amalfi
Authenticity
Bashful Botanical
Be Zesty
Beach Bliss
Beautiful Blooms
Blushing Blooms
Bravery
Brilliant Bouquet
Charming Chapel
Dahlia Delight
Darling Dahlia
Empathy
Everything Eiffel
Fantastic Fuchsia
Find Your Balance
Frannie Flamingo
Go Wild
Greek Greece
Grit
Happily Hydrangea
Just Leafy
Keep Growing
Kindness
Las Vegas Love
Leading Lighthouse
Lucy Longhorn
Magic Magenta
Mail Me Roses
Majestic Mountains
Orange You Glad
Perfect Petals
Petal Power
Petals For Me
Pick Me Up
Pinch Me
Polite Peony
Pretty Protea
Purpose
Remi and Reese
Resilience
Respect
Rosie Reds
Rustic Red
Sensitive Succulents
Stand Out In The Crowd
Strength
Such a Succulent
Summer Sorbet
Tropic Like It's Hot
Truth
Under Umbrellas
Very Venice
Vintage Vision
Zealous Zinnias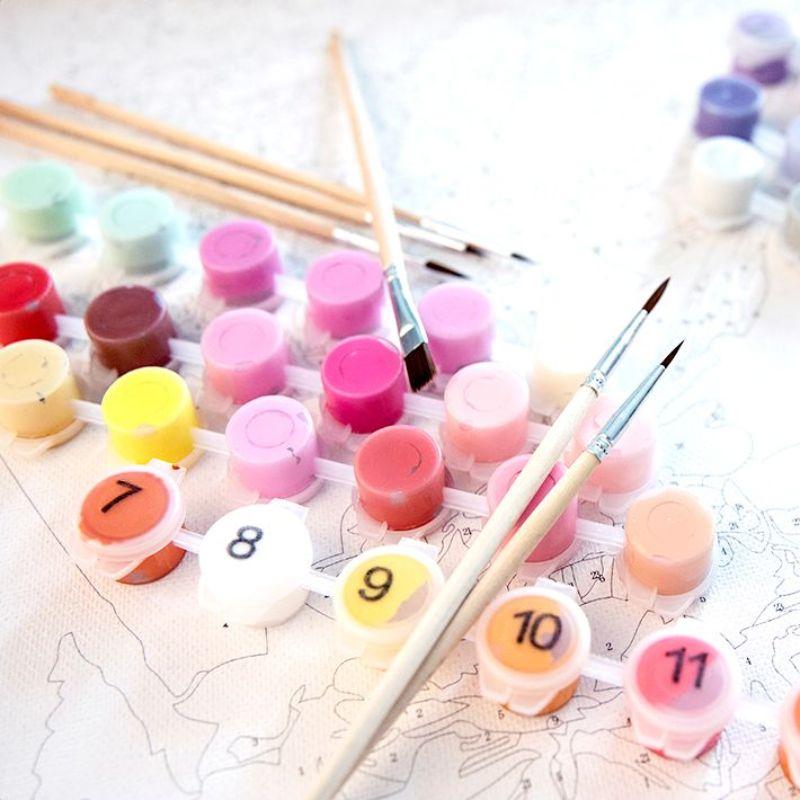 Why Choose Pink Picasso Kits

Happy Creators
Testimonials
Recommended for you
These are fan-favorites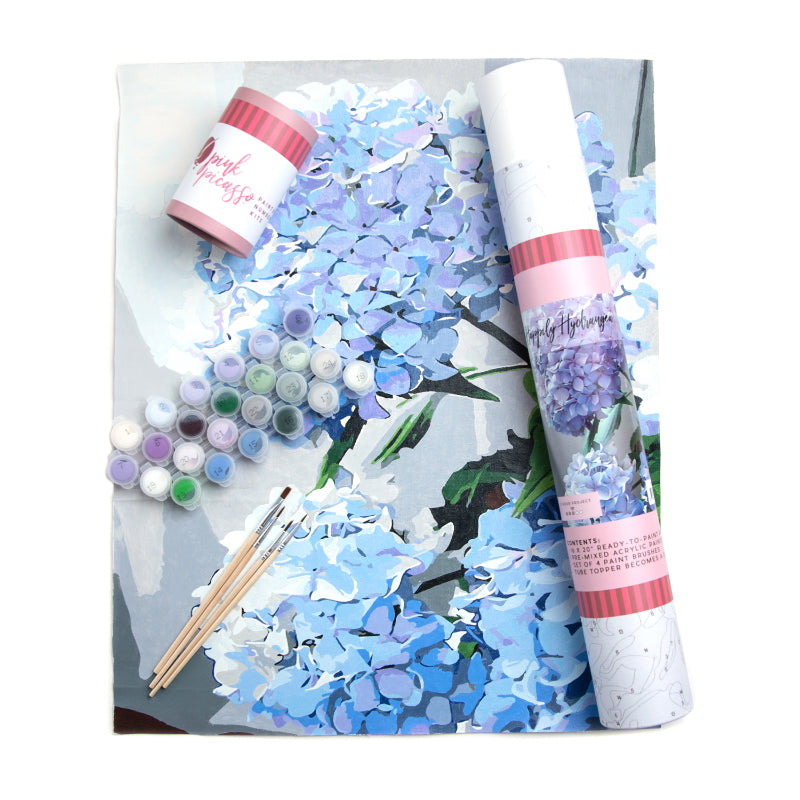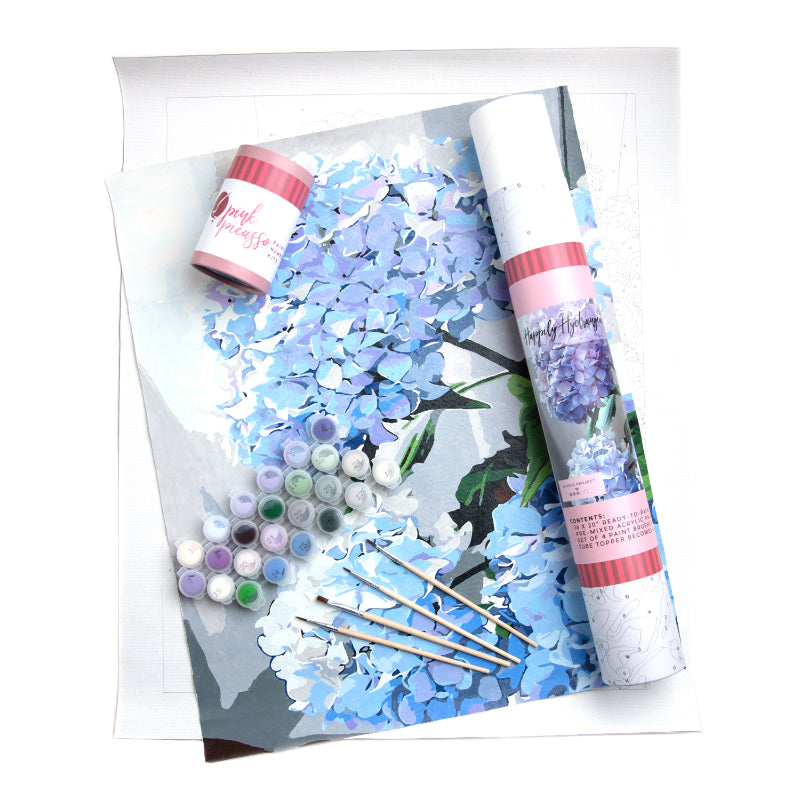 Happily Hydrangea
$46.00
Introducing our 16x20 botanical paint by numbers kit, the perfect way to unleash your inner artist and create a stunning piece of art for your home! Our kit includes everything you need to get started, including:  A high-quality canvas with a beautifully detailed and original botanical design A set of premium pre-mixed water-based acrylic paints, and  Four brushes in different sizes The canvas is pre-printed with numbers and corresponding areas to paint, making it easy to follow and perfect for beginners. All of our Botanical kits are created from original photography done by our CEO Ashley Silfies, so you won't find these stunning designs elsewhere.  The 16x20 size is perfect for showcasing the intricate details of the botanical design and will make a beautiful statement piece in any room. Plus, the paint dries quickly and is resistant to fading, ensuring that your masterpiece will look as vibrant as the day you painted it for years to come. Not only is this kit a fun and relaxing way to unwind after a long day, but it also makes a great gift for any art lover or nature enthusiast in your life. So why wait? Order your botanical paint by numbers kit today and start creating your own masterpiece! AS SEEN ON: Oprah's Favorite Things (2019, 2020, and 2022) The Today Show Kelly Clarkson Good Morning America HGTV The Racheal Ray Show ABC's Shark Tank ESTIMATED HOURS TO COMPLETE: 12-18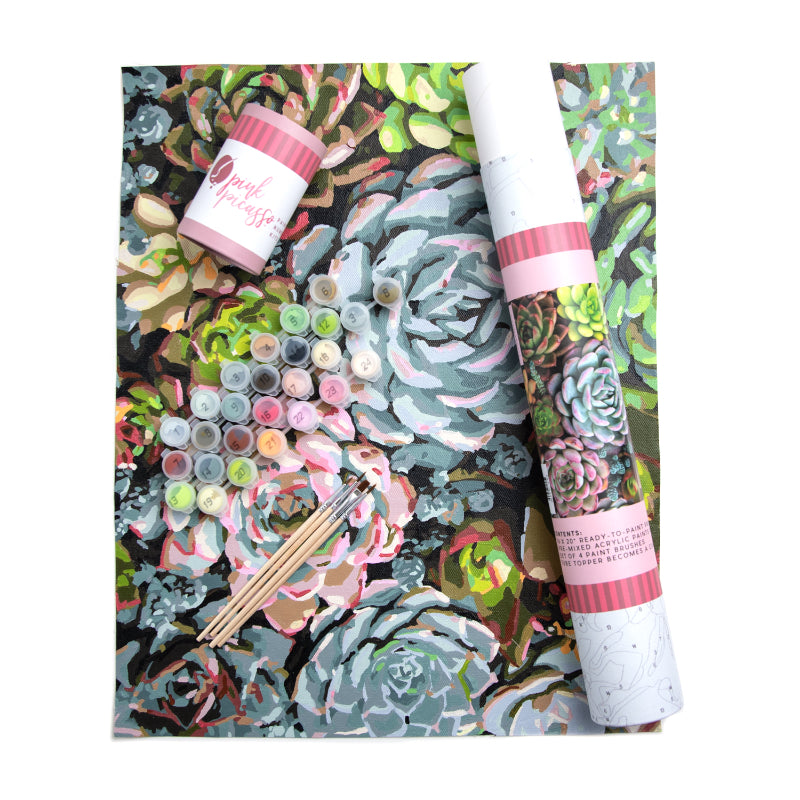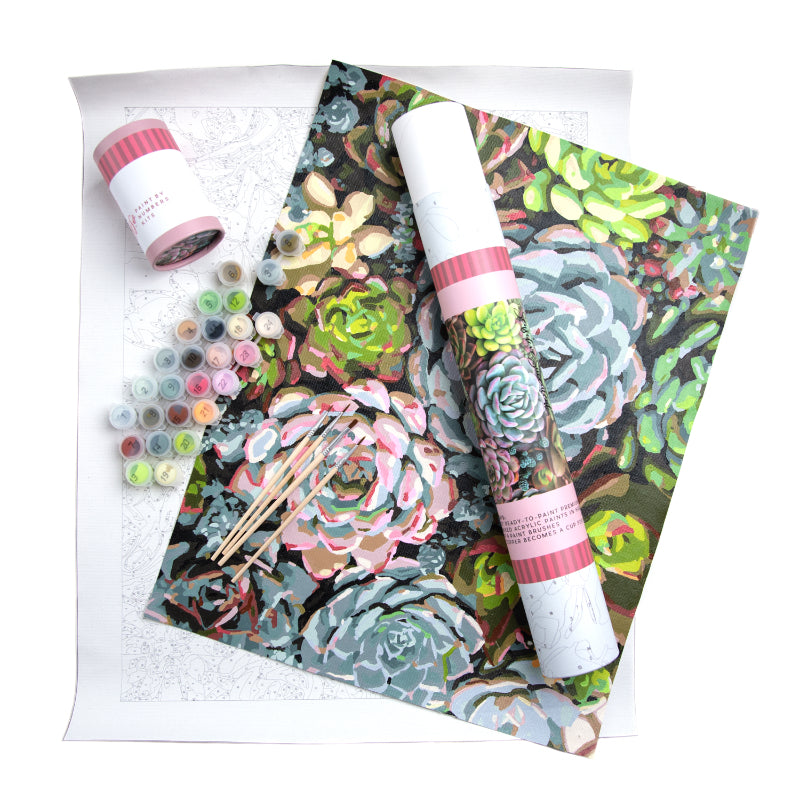 Sensitive Succulents
$46.00
Introducing our 16x20 botanical paint by numbers kit, the perfect way to unleash your inner artist and create a stunning piece of art for your home! Our kit includes everything you need to get started, including:  A high-quality canvas with a beautifully detailed and original botanical design A set of premium pre-mixed water-based acrylic paints, and  Four brushes in different sizes The canvas is pre-printed with numbers and corresponding areas to paint, making it easy to follow and perfect for beginners. All of our Botanical kits are created from original photography done by our CEO Ashley Silfies, so you won't find these stunning designs elsewhere.  The 16x20 size is perfect for showcasing the intricate details of the botanical design and will make a beautiful statement piece in any room. Plus, the paint dries quickly and is resistant to fading, ensuring that your masterpiece will look as vibrant as the day you painted it for years to come. Not only is this kit a fun and relaxing way to unwind after a long day, but it also makes a great gift for any art lover or nature enthusiast in your life. So why wait? Order your botanical paint by numbers kit today and start creating your own masterpiece! AS SEEN ON: Oprah's Favorite Things (2019, 2020, and 2022) The Today Show Kelly Clarkson Good Morning America HGTV The Racheal Ray Show ABC's Shark Tank ESTIMATED HOURS TO COMPLETE: 12-18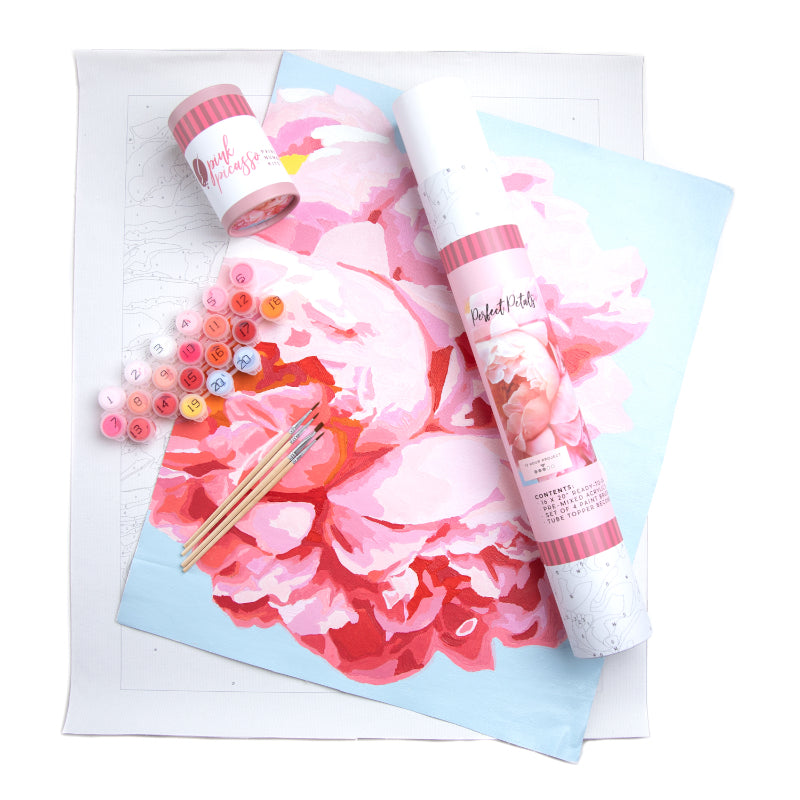 Perfect Petals
$46.00
Introducing our 16x20 botanical paint by numbers kit, the perfect way to unleash your inner artist and create a stunning piece of art for your home! Our kit includes everything you need to get started, including:  A high-quality canvas with a beautifully detailed and original botanical design A set of premium pre-mixed water-based acrylic paints, and  Four brushes in different sizes The canvas is pre-printed with numbers and corresponding areas to paint, making it easy to follow and perfect for beginners. All of our Botanical kits are created from original photography done by our CEO Ashley Silfies, so you won't find these stunning designs elsewhere.  The 16x20 size is perfect for showcasing the intricate details of the botanical design and will make a beautiful statement piece in any room. Plus, the paint dries quickly and is resistant to fading, ensuring that your masterpiece will look as vibrant as the day you painted it for years to come. Not only is this kit a fun and relaxing way to unwind after a long day, but it also makes a great gift for any art lover or nature enthusiast in your life. So why wait? Order your botanical paint by numbers kit today and start creating your own masterpiece! AS SEEN ON: Oprah's Favorite Things (2019, 2020, and 2022) The Today Show Kelly Clarkson Good Morning America HGTV The Racheal Ray Show ABC's Shark Tank ESTIMATED HOURS TO COMPLETE: 12-18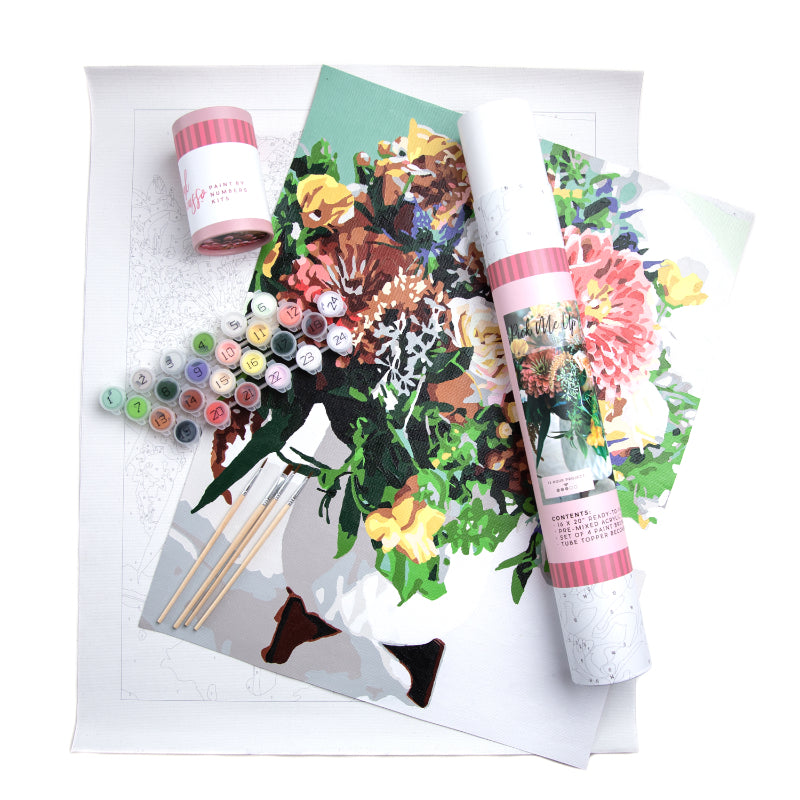 Pick Me Up
$46.00
Introducing our 16x20 botanical paint by numbers kit, the perfect way to unleash your inner artist and create a stunning piece of art for your home! Our kit includes everything you need to get started, including:  A high-quality canvas with a beautifully detailed and original botanical design A set of premium pre-mixed water-based acrylic paints, and  Four brushes in different sizes The canvas is pre-printed with numbers and corresponding areas to paint, making it easy to follow and perfect for beginners. All of our Botanical kits are created from original photography done by our CEO Ashley Silfies, so you won't find these stunning designs elsewhere.  The 16x20 size is perfect for showcasing the intricate details of the botanical design and will make a beautiful statement piece in any room. Plus, the paint dries quickly and is resistant to fading, ensuring that your masterpiece will look as vibrant as the day you painted it for years to come. Not only is this kit a fun and relaxing way to unwind after a long day, but it also makes a great gift for any art lover or nature enthusiast in your life. So why wait? Order your botanical paint by numbers kit today and start creating your own masterpiece! AS SEEN ON: Oprah's Favorite Things (2019, 2020, and 2022) The Today Show Kelly Clarkson Good Morning America HGTV The Racheal Ray Show ABC's Shark Tank ESTIMATED HOURS TO COMPLETE: 12-18
Still waiting for my order after all this time
Disappointed that I still have not received my order, but I was already charged for it. Can you please provide me with an updated status? Thank you.
Extra Paint
The company was very responsive and sent an additional paint set quickly. Great company!
So relaxing !
Love painting. I am a beginner but am truly enjoying each time I get to work on my painting. This will be my first of many.
Extra paint for Hydrangia painting
Love this company, they are so responsive and I love Pink Picasso kits!!! On my first, will do another!
Women Owned & Operated
Girl power!
World's Best Customer Service
Contact us at any time
30-Day Guarantee
If you don't love it, return it.